Without proper awareness and management of plastic waste recycling , it is certain that plastic waste will accumulate more and more. Facts prove that plastic can cause environmental pollution.
Therefore, reducing the pile of waste by recycling plastic waste is very important. In this article, you can find some simple ways to recycle plastic waste at home.
Don't worry, recycling plastic waste can be an exciting and fun activity with your family. Lets try one by one the list ideas below!
1. Bubble Wrap Painting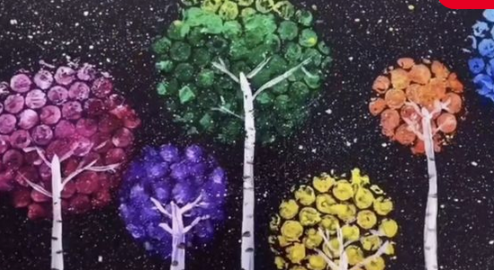 Bubble wrap is often found on packaging or product package wrappers. Instead of just throwing it away, use bubble wrap as a painting tool. You only need three easy steps.
First, cut the bubble wrap into circles of different sizes. Later, this circle becomes a tree shape pattern. Different circle sizes will create different perspectives.
Then, apply paint to the bubble wrap circle , then stick it on paper or canvas. Add pictures of tree trunks or other objects to make the painting more interesting. Painting from recycled plastic bubble wrap is done!
2. Ethnic Earrings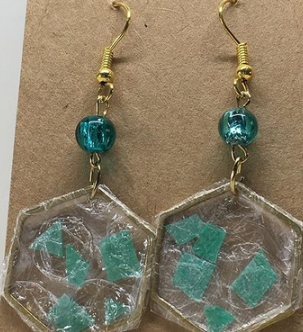 Next idea to recycling bubble wrap plastic waste is ethnic earring jewelry.
With pieces of used bubble wrap and some accessories, you can make unique jewelry from beads and bubble wrap . Not only earrings, you can also make pendants, bracelets, necklaces, brooches, and more.
3. Recycle Bin
Are you often annoyed because the hole in the trash bin is gnawed by rats? How about we make our own new wastebasket from recycled plastic bottles.
First, collect enough used plastic drink bottles. Then, stick it with the glue gun tool.
Then, arrange 2-4 levels to form a basket or trash can. You can use plastic bottles with different colors to make it look more beautiful.
4. Hanging Pot
Living in urban areas is sometimes difficult to channel the hobby of gardening because of limited land and a minimalist house. However, you can use recycled plastic bottles for hanging pots.
That way, you don't need land, you can still grow various types of vegetables, flowers, and other ornamental plants. In addition to plastic bottles, you can also recycle plastic waste in the form of biscuit jars, paint cans, and other plastic containers for gardening.
5. Garden Decoration
Bottles of soda usually come in a variety of attractive colors and motifs. Therefore, you can use recycled plastic soda drink bottles for garden decorations.
For example, instead of making a fence of iron or wood, you can simply arrange colorful plastic bottles lined up on the edge of the bed. Simple and beautiful, right!
6. Jewelery Case
Instead of just throwing it in the trash, recycle plastic waste such as used bottles into jewelry boxes. Organizer or jewelry holder from plastic bottles is made simply.
Simply cut the plastic bottle in half, then paint it white. If the paint has dried, you can place your favorite necklace or accessories on the neck of the bottle.
Not only practical and neat, but you help reduce the pile of used plastic bottles in the garbage collection.
7. Spoon and Spatula Holder
The kitchen looks messy and a lot of utensils are scattered? You can take advantage of recycling plastic soda bottle waste as a spoon and spatula container.
The trick, cut the bottle in half. Then, make holes in the edges as a place to hang nails.
These holders can be used to store spoons, spatulas, sponges, and other small items. In fact, it can also be used as an economical pencil case or soap holder.
8. Plastic Flowers
Compared to fresh flowers, plastic flowers are certainly more practical and durable, right? After all, you also won't have to worry about watering or caring for flowers made of plastic.
Try recycling plastic bottles of soda drinks to make artificial flowers. All you need are scissors, a plastic bottle, a straw, glue, and paint. First, make a flower crown from pieces of plastic bottles.
Then, arrange 4 levels to resemble a rose. Then, glue each arrangement of the flower crowns with a glue gun.
Next, paint red or spray dye. Add small flower petals at the base, and don't forget, make the flower stems from straws or wire.
9. Art installation of plastic bottle caps
The idea of recycling plastic waste this time is using bottle caps and glue/screws. Beautiful colorful plastic bottle caps will make a beautiful mosaic. Moreover, to cover a wall or fence that is dull and mossy.
To make it, you need a lot of plastic bottle caps according to the surface area of the wall that will be covered by the mosaic installation.
This bottle cap craft idea is safe and easy to make, making it suitable as an art craft activity for children.
10. Plastic Spoon Flowers
Confused about how to recycle plastic spoons from birthday parties? If so, the idea of recycling plastic waste this time is right for you.
Not just ordinary plastic flowers, on the stem or handle it is in the form of a circle. So, later it can be used to put a napkin or cloth in it.
How to make it, cut until leaving the head of the spoon. Then, arrange 5 pieces of spoon heads to resemble flower crowns, and glue them with a glue gun.
Once dry, glue and attach a plastic band at the bottom as a place to insert a napkin or cloth. You can place this artwork near a dish rack or over the sink to wipe your hands.
11. Ottoman Chair
Do you have plastic bottles of soda that are piling up in the warehouse? Just right! Instead of throwing it away, you can make a cool ottoman chair for your patio or living room.
It should be noted, the bottom of the chair is a bottle that has been cut in half at the neck of the bottle. So, later it can be stacked or put bottles at the top in an inverted position.
Arrange up to 16 pairs of bottles or according to the width of the seat, then tie them together with tape to keep them strong and not easy to fall off.
After that, add a sponge or pillow to the top to make it more soft. Next, you can wrap or cover the chair from a plastic bottle with a patterned cotton cloth, batik cloth, or leather cloth according to your style.
Now is the time, you play a role in protecting the planet earth by recycling your own plastic waste at home. You can save money, reduce the amount of plastic waste, as well as hone your creativity.